Mailing
---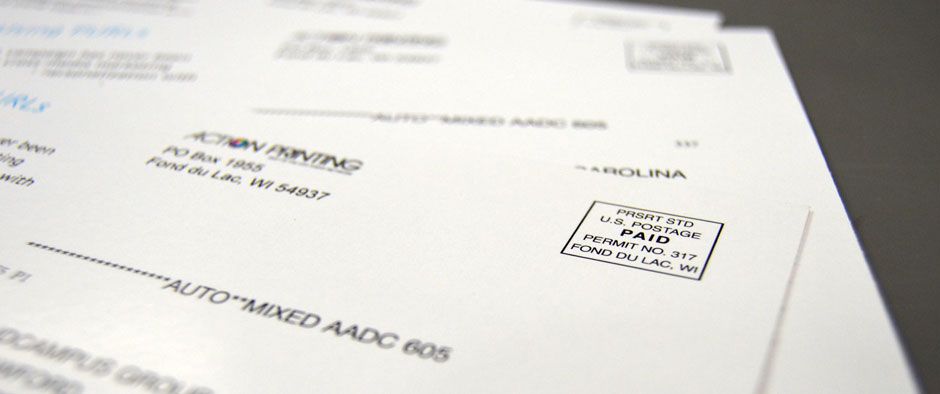 Our full service mailing department allows you to get the most from your postage dollars. All mail is analyzed and processed to maximize postal savings. Our mailing experts are current on postal regulations and are ready to assist you in creating and implementing your mailing programs. An indepth look at our sevices is listed below.
List Processing
You may have a large database of contacts. However, if that database is not kept in good shape, you could be losing opportunities as well as postal discounts with every mailing. That is where list processing, also known as data hygiene, becomes important. Incorrect or out-of-date addresses cost you money. Our list processing delivers a greater return on marketing investment through up-to-date data, accurate mailing lists, and postal discounts.
We reduce mailing costs with the following list processing services:
Verify database quantity and integrity

Eliminate duplicate records, extraneous characters, and blanks

Updating outdated addresses

List enhancement services (CASS and NCOA Certification)
Inline Ink-Jet Addressing
Mail pieces are addressed in-line during the binding process (folding, perfect-binding, or saddle-stitching). This allows you to save time and money by eliminating extra steps of offline addressing.
Seamless Postal Distribution
Our Midwest location is perfect for reducing shipping and postage costs, and the following services provide additional savings:
Carrier Route Sorting

Presorted Bulk Mail Rates

Drop Shipments to Regional Postal Facilities

Co-Mailing & Co-Palletization
These are just a few of the cost-saving solutions provided by Action Printing. To find out which mailing services are best for you, contact us to start a conversation.