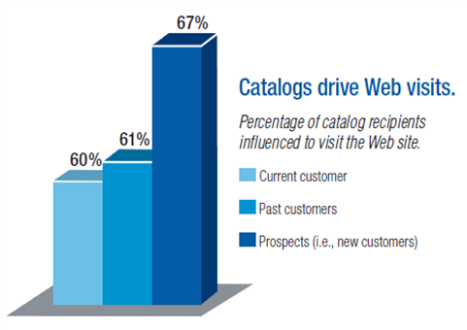 Recent studies have shown catalogs have a huge role in driving eCommerce business. Companies who thought saving money through budgeting strategies that included dropping their printed materials soon realized their mistake after their sales had taken a huge hit.
The direct mail marketing association says that 53% of consumers purchase from a catalog at least once a year, with 17% purchasing monthly or more often.
There's no doubt that customers don't want to be confined to screens when making purchasing decisions, but the most valuable component of a catalog is its ability to cut through the clutter on the internet. With direct mail pieces your audience will be directly thinking about your brand without the intrusive distractions of the internet. Without the integration of catalogs or any printed pieces in your marketing mix your brand would most likely be camouflaged into the depths of the internet along with all of the other millions of digital marketers trying to make themselves heard.
The facts about catalogs and other direct mail materials are astounding:
1. 79% of households say they read or scan direct mail ads
2. 39% of customers say they try a business for the first time because of direct mail advertising
3. 48% of people retain direct mail for future reference
4. Direct mail marketing yields, on average, a 13-to-1 return on investment ratio
5. 92% of young shoppers say they prefer direct mail for making purchasing decisions
6. For every $167 spent on direct mail, U.S. marketers sell $2,095 in goods
7. 44% of customers visit a brand's website after receiving direct mail marketing
*SOURCES: Choose Print, Print Is Big, Rochester Institute of Technology
Catalogs drive online sales, it's that simple. Industry data and trends suggest the importance of catalogs and other printed materials in a digital world will continue to grow and will not be phased out anytime soon.